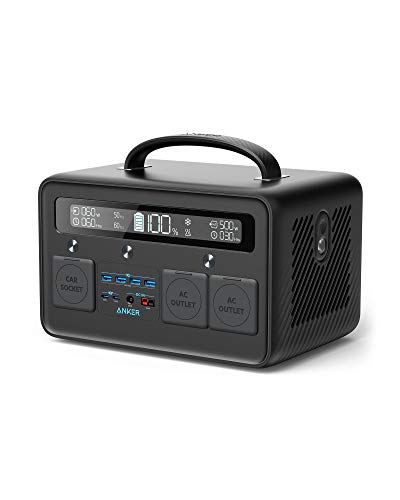 Anker Portable Power Station, Powerhouse II 800, 500W/777Wh Solar Generator with 110V/500W 2-AC Outlets, 2X 60W Power Delivery Outputs & LED Flashlight, for Outdoor RV/Van Camping, Home Emergencies
Brand: Anker
Color: Black
Features:
Massive Capacity: Packing a whopping 777 watt-hours, this powerful charging station serves as a reliable emergency backup or handy travel companion.
Power it All: With 2 AC outlets, 2 USB-C ports, 4 USB-A ports, one vehicle-class outlet, and 2 DC outlets; PowerHouse II 800 is compatible with virtually all essential devices.
Fast and Furious: With output topping 770W, every small appliance runs optimally and every device charges as fast as possible; with zero interference at full load. Get a MacBook Air to 50% charge in around 40 minutes.
Back on the Road: PowerHouse itself recharges in as little as 4.9 hours with the combined DC and USB-C inputs allowing for 240W power flow.
What You Get: PowerHouse II 800, AC adapter , USB-A to USB-C Cable, USB-C to USB-C Cable, car charging cable, welcome guide, our worry-free 18-month warranty, and friendly customer service.
Details: PowerHouse II 800 The High-Capacity Family Power Station Days of Power Whether you're on a long road trip or in the middle of an emergency, PowerHouse II 800 provides an enormous 777 watt-hours of backup power. Power 11 Devices Simultaneously Power nearly all of your smart devices, small appliances, and other electronics with 2 AC outlets, 2 USB-C ports, 4 USB-A ports, one vehicle-class outlet, and 2 DC outlets; all at the same time, and all at full power. Serious Speed PowerHouse II 800 pumps out over 770W of power, ensuring the fastest possible charge for your devices and optimal functionality for your appliances. With just one of the 60W USB-C ports, charge a MacBook Air up to 50% in around 40 minutes—that's 40% faster than the in-the-box charger. Rapid Recharge When PowerHouse finally does run out of power, bring it fully back to life in as little as 4.9 hours by plugging in the DC adapter and 2 USB-C chargers. With a 240W input speed using the DC and USB-C outlets, you'll be back in action in record time. Specs: Cell Capacity: 21,6000 mAh Rated Capacity: 36,000 mAh 21.6V / 777.6Wh Weight: 8.3KG Size: 300 (L) × 185 (H) × 204 (W) mm / 11.8 × 7.3 × 8 in Operating Temperature: 32°F-104°F / 0°C-40°C Ambient Temperature: 32°F-104°F / 0°C-40°C Output: 2 × AC Outlets (Pure Sine Wave): 110V~ 4.54A, 50Hz / 60Hz, 500W Total 4 × USB-A Ports: 5V⎓6A (2.4A Max Per Port) 2 × USB-C Ports: 5V⎓3A / 9V⎓3A /15V⎓3A / 20V⎓3A (60W Each) 1 × Car Socket + 2 × 5.5 mm DC: 12V⎓10A (120W Total) Input: DC Input: 11-28V⎓ 10A (120W Each) USB-C Input: 5V⎓3A/9V⎓3A/15V⎓3A/20V⎓3A (60W Each)
Package Dimensions: 19.7 x 15.7 x 7.9 inches