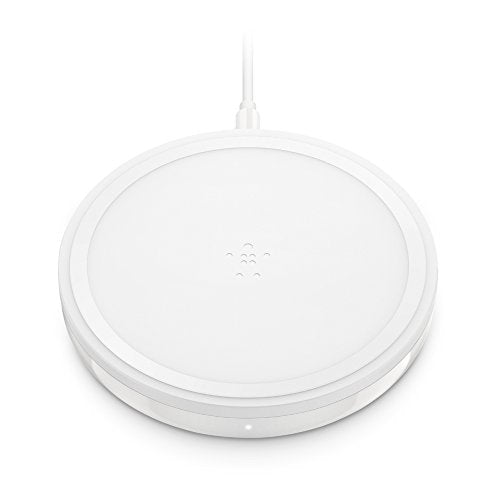 Belkin Boost Up Bold Wireless Charging Pad 10W, Wireless Charger for Apple, Samsung, LG and Sony, White
Brand: Belkin
Color: White
Features:
The Belkin difference: #1 third-party maker of wireless charging accessories*
Delivers the fastest charging speed to any Qi-enabled smartphone
Provides optimal charging speed for Apple iPhone at 7.5W, Samsung at 9W and all other Qi devices up to 10W
Charges through most lightweight plastic cases - up to 3mm
AC adapter with 5-foot cord included
Compatible with all Qi-enabled smartphones, including: Apple iPhone 8, 8 Plus, X / Samsung Galaxy S9, S9+, S8, S8+
Protected by 3-year warranty with registration
Publisher: Belkin Inc.
Warranty: 3-year warranty with registration
Details: Optimal wireless charging for all Qi-enabled devices arrives in the Boost Up Bold Wireless Charging Pad. Faster universal charging up to 10-watts delivers 7.5-watt optimal charging for iPhone X, iPhone 8 Plus/8, up to 9-watts for Samsung devices, up to 10-watts for all other Qi-enabled devices including Sony and LG. The pad is also carefully engineered to minimize interference and protect phone functionality while charging. An included 5-foot AC adapter ensures accurate power output, and multiple colorways are available for a personalized choice.

Apple Charging Pad

iPhones optimally charge at 7.5W. This Belkin charging pad is tuned to deliver exactly 7.5-watts of power to compatible Apple devices, making it the perfect iPhone 8 wireless charger, iPhone 8 Plus wireless charger, and iPhone X wireless charger.

Samsung Charging Pad

Samsung smartphones optimally charge at 9W. This Belkin wireless charger is tuned to deliver exactly 9-watts of power to compatible Samsung devices, providing the fastest possible charge.

Universal Charging Pad

All other qi-enabled smartphones, including Sony and LG devices, optimally charge at 10W. The Belkin Boost Up Bold Wireless Charger is tuned to deliver up to 10-watts of power, making it the perfect LG wireless charger, as well as a true universal wireless charger solution.

Compatible Devices

Apple iPhone 8, 8 Plus, X / Samsung Galaxy S9, S9+, Note 8, S8, S8+, S7, S7 edge, Note 5, S6, S6 Edge / LG V30, G6 (US version only), G4 (optional), G3 (optional) / Sony Xperia XZ2 / Microsoft Lumia 1520, 1020, 930, 929, 928, 920 / Google Nexus 4, 5, 6, 7 (2013) / BlackBerry Priv.

The Belkin Difference

Looking to the future of technology for over thirty years, Belkin is the number one third-party maker of wireless charging accessories.* The goal at Belkin is to create a future free of cluttered cables and a world where wireless charging is accessible from anywhere. All Belkin products are designed on-site in California and produced with quality control checks throughout the manufacturing process.

Belkin has its own internal manufacturing facility that has passed the ISO (International Organization for Standardization) 9001 quality management requirements. For anything produced outside this facility, Belkin's quality control specialists are on-site every step of the way. Rigorous testing and quality control throughout the manufacturing process keeps Belkin ahead of the pack while a Connected Equipment Warranty offers total peace of mind.

*Belkin is the #1 selling third-party wireless charging brand on a weekly basis since Aug 2017. The NPD Group, Inc. U.S. Retail Tracking Service, Mobile Power, Charger Wireless, Aug 13 2017 to Nov 19 2017.
UPC: 745883756452
EAN: 0745883756452