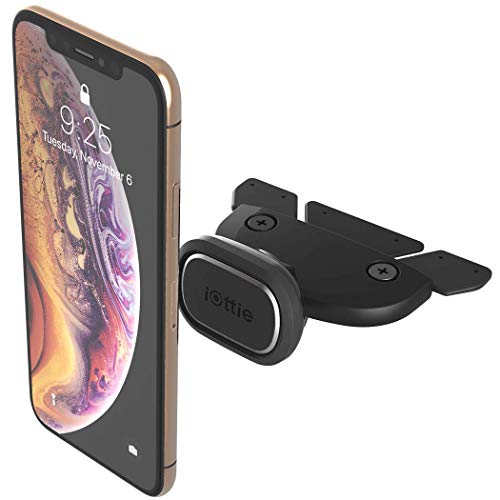 iOttie iTap 2 Magnetic CD Slot Car Mount Holder, Cradle for IPhone Xs Max R 8 Plus 7 Samsung Galaxy S10 E S9 S8 Plus Edge Note 9 & Other Smartphones , Black
Brand: iOttie
Color: Black
Features:
Rare Earth Magnets: Features two strong hold magnets powerful enough to handle any phone. Install on devices with cases
Metal Plate Options: Provides a choice of an inner and outer metal plate; Each plate uses an adhesive tape to attach to select mounting location and is easily removable
Rotating Angles: Provides a rotating ball joint to help provide 360 degree viewing angles to allow the user an enhanced view of their smartphone or GPS device
Dashboard Pad and Suction Cup: Includes a semi-permanent dashboard disc that applies directly to the dashboard
Hassle-Free Warranty: iOttie guarantees a hassle-free warranty on all products, contact customer support for assistance
Binding: Wireless Phone Accessory
Release Date: 05-11-2018
Details: The iTap2 Magnetic 2 CD slot mount is a compact and powerful magnetic mounting solution that holds smartphones in any vehicle. Designed for safety and convenience, the tap 2 features two rare-earth magnets that provide a strong hold for all smartphones and case combinations. The mounting system includes a metal plate kit with small and large metal plates and a protective film that attaches directly on the back of the smartphone or case and does not interfere with wireless charging when positioned accordingly. The tap magnetic 2 safely installs directly into the vehicle's CD slot with a soft rubberized CD slot connector and a locking lever that secures the mount in place. The tap magnetic 2 CD slot mount from iOttie is compact and powerful to safely enhance the driving experience on the road.
Package Dimensions: 5.2 x 4.3 x 2.8 inches