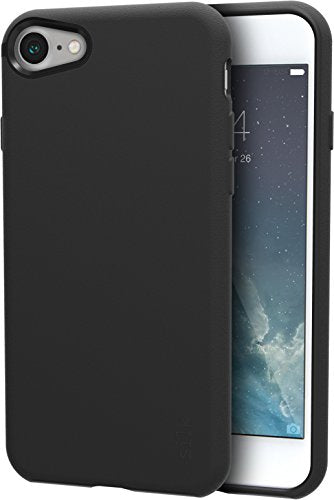 Silk iPhone 7/8 Grip Case - Base Grip Lightweight Protective Slim Cover - Kung Fu Grip - Black Onyx
Brand: Silk
Color: Black Onyx
Features:
SUPER GRIPPY TEXTURE - Just the right amount of grip ... fewer toilet drops!
ULTRA-LIGHT & DURABLE CONSTRUCTION - Thin and protected? It must have a life-coach
PROTECTIVE AIR-POCKET CORNERS - Think airbags for your iPhone
IMPROVED TACTILE 'CLICK' BUTTONS - You heard that right, the buttons will 'click' better
INCLUDES FREE SCREEN PROTECTOR FILM - Pretentious film director not included
Publisher: Silk
Warranty: Lifetime warranty
Details: The Base Grip case for iPhone 7 by Silk provides the ultimate in grip and phone security while protecting your device from drops, dings, and scratches. The case features a patent pending grip design with high-grip textured edges to keep the phone securely in your hand in wet or dry conditions. The air cushioned corners provide shock absorption while the Lay-flat screen guard protects your screen from drops and scratches. The volume and power buttons are covered with carefully-designed Natural Throw buttons, which protect your iPhone from dust and debris while providing a tactile 'click' response. All ports are easily accessible, with wide openings that allow for almost any accessory or adapter to fit comfortably. The Base Grip will secure your connection to your phone no matter the conditions.
UPC: 817019020468
EAN: 0817019020468